Inheriting a home, leaving town for that new opportunity, or trading your current home for a better one can leave you wondering, should I rent or sell my Detroit home? With the intense house appreciation of 2021, is it more profitable to rent or sell your current home and is being a landlord right for you? Here we break down some things to consider when deciding whether to sell or rent your current home.
Snapshot of the current market
How much has the market appreciate in 2021? According to Zillow, since last year the average price of a property has already gone up 11% with and increase in average monthly rental income of 3%. Detroit rental market has increased 15.9% since last year. Below is a breakdown of some Metro Detroit cities m/m and y/y returns.
Source: Zumper.com
Are you ready to be a landlord?
I can say from personal experiences that collecting rent from tenants can be a nightmare. It can be very frustrating paying the mortgage month after month on a house that you never collect rent or live in only to be given the promise of rent being paid the next month. Don't get me wrong, I understand people lose jobs and have life circumstances out of their control, but you are in a business and need to have a steady cash flow. For these circumstances, its not a "if this happens" but a "when this will happen". That is why I always suggest using a local property manager with a proven track record to manage the property.
Here are some of the duties you need to be well versed and up to date when deciding to rent out your vacant home:
Certificate of occupancy: Detroit requires it to rent out the residence. Obtaining this require you to have smoke/carbon monoxide detectors, functioning and up to date electrical, working pluming, no chipping paint, railing on every stairway. In one circumstance, they made me remove all the bushes surrounding the home. They can be detailed in their inspections!
Property Management: As we discussed earlier, this is vital for your profit margin! Typically, a property management company will charge first month rent along with a percentage of the rent every month. This can solve a lot of headaches from not being paid your rent and even down to liability on the property. As seen on the chart below, the top services for management companies are Maintenance and repairs, rent and fee collection and leasing/advertising.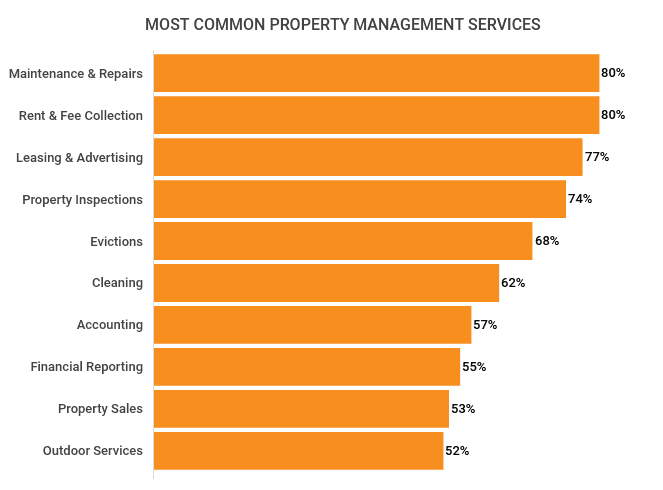 Damage: Allowing a renter to have a dog on the property or smoke inside? Be prepared to pay for carpet cleaning/replacement or new paint on the wall. Damage happens! And maintenance is a constant battle.
It all comes does to what you can put in your pocket
If you have a lot of equity in the property and its in a hot market, then it may make sense to sell now while its at a all time high. Your equity may not be as valuable in the future so it would make sense to sell now.
However, if you do your research and have the right tools at hand, renting can be profitable for years to come as passive income. After many headaches and losing more money than I care to disclose, I can tell you that renting out properties can be very profitable and rewarding if you utilize the right people.
Some Detroit homeowners may not have the equity and may have a house that needs a new roof or other damage that they are not ready to pay for. A vacant house can quickly turn sour when it is uncared for. If this sounds like you then give us a call and we can give you a no obligation all cash quote.